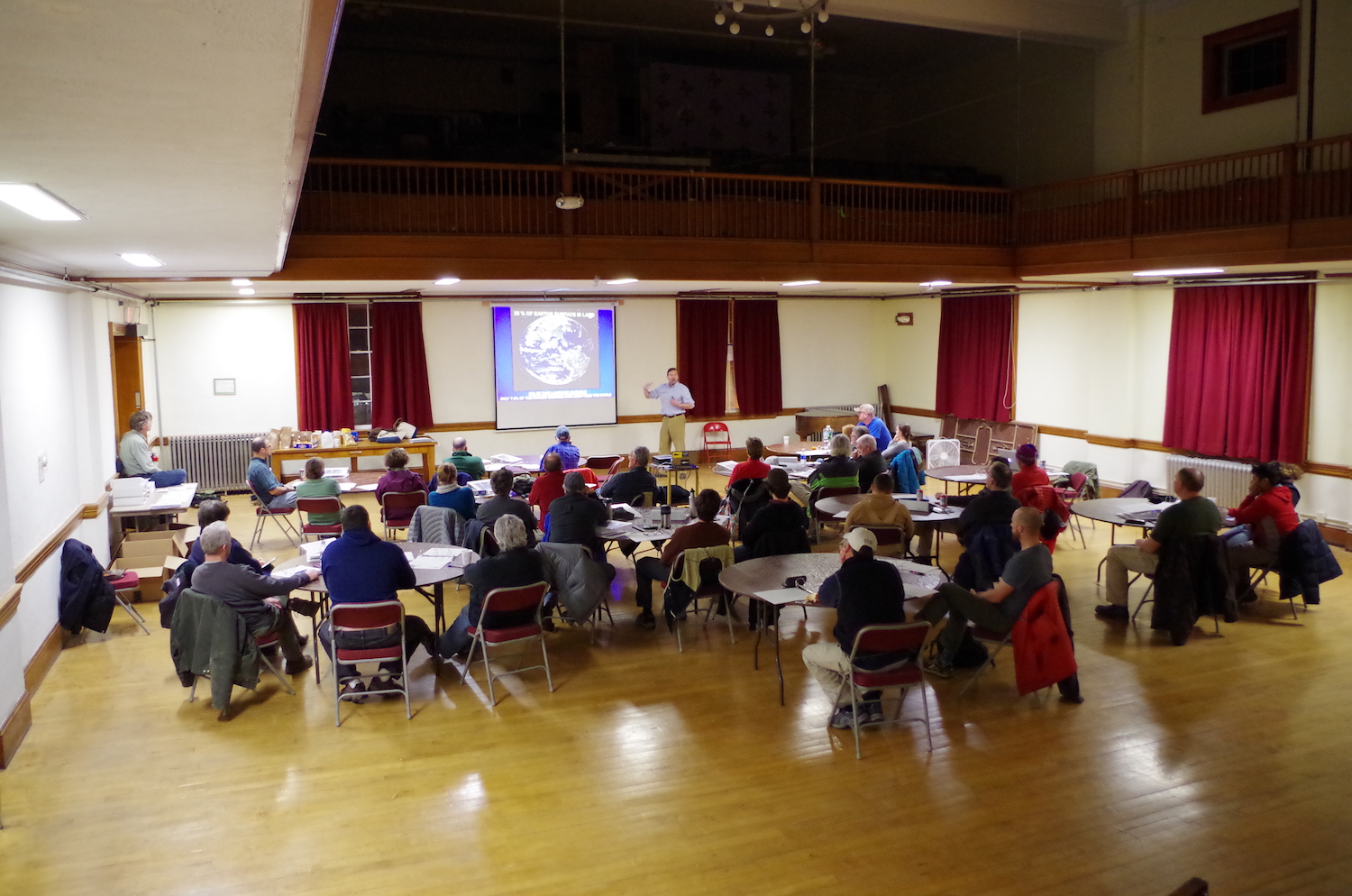 Today, Maine's aquaculture industry includes many fishermen who are using aquaculture to diversify their incomes. There's a lot to know however, when entering the aquaculture industry, and since 2013, the Aquaculture in Shared Waters program has provided training, technical support and networking for commercial fishermen and members of fishing families who are interested in diversifying their incomes. The course is offered by University of Maine Sea Grant and Cooperative Extension, Maine Aquaculture Association, Coastal Enterprises, Inc., and Maine Aquaculture Innovation Center, and the 2017 class is forming now, to be held in Ellsworth.
To get things going, an introductory meeting about the program is planned for Tuesday, February 7, at 6:30 p.m. at the Bryant E. Moore Center in Ellsworth. (NOTE: This meeting has been cancelled due to the report of poor weather. Please contact Dana Morse or Chris Bartlett at the numbers/emails below to learn more) At this meeting, we'll will review the curriculum and benefits to participants, including technical information needed to run a successful aquaculture operation. The course is comprehensive, and covers site selection, equipment and husbandry methods, regulation and permitting, farm operations, marketing, public health, working with tourism and culinary sectors, and business and financial management. Those interested in signing up for this free course are encouraged to attend the informational meeting. Classes will meet on Thursday evenings, and they generally run for two hours; the first class is February 16 at 5:30pm, at the Moore Center.

Aquaculture in Shared Waters operates with principal funding from NOAA Sea Grant, and is coordinated by Maine Sea Grant and University of Maine Cooperative Extension. The name, Aquaculture in Shared Waters, reflects the fact that aquaculture is but one of the many diverse uses of Maine's coastline, and that the best results are achieved when sites are chosen carefully, and with due consideration of local perspectives and conditions.

For more information about this meeting or the AQSW program, please visit http://www.seagrant.umaine.edu/aquaculture-in-shared-waters or contact Dana Morse, 207.563.8186, dana.morse@maine.edu or Chris Bartlett, 207.853.0967, cbartlett@maine.edu.
| | |
| --- | --- |
| | |
| Chris Warner (right) has created the first commercial-scale farm for softshell clams in Maine; talking about the project here with the 2016 class | Garth Hersey (left) of Brooks Trap Mill, describing the construction and use of the Oyster-Gro system |
| | |
| The 2016 class, hearing about oyster farming from Pete Smith (left) of Otter Cove Farms on the Damariscotta River. | The 2016 class, meeting in the Town Hall in Thomaston, with Sebastian Belle of the Maine Aquaculture Association giving the presentation for that evening |