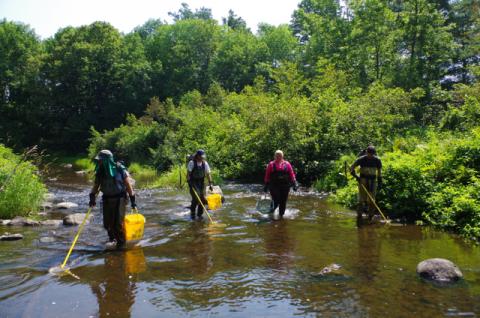 On a recent hot July morning, graduate student Nicole Ramberg-Pihl went out to the Kenduskeag Stream in Exeter and Garland in search of smallmouth bass. Accompanying her in the field were Stephen Coghlan, faculty member in the Department of Wildlife, Fisheries, and Conservation Biology at the University of Maine, and undergraduate students Spencer Kelley and Tyson Porter.
Nicole needs to collect small young-of-the-year fish for a Sea Grant-funded project to evaluate how bass might compete with brook trout and endangered Atlantic salmon in Maine rivers in a future with warmer temperatures. Trout and salmon like it cold; bass, introduced to Maine waterways in the 1860s, can tolerate warmer water. Smallmouth bass have replaced or are replacing trout and salmon throughout much of their native ranges, and this should accelerate with global warming, said Coghlan. The researchers are trying to figure out how exactly the fish interact with one another. Part of the project involves experiments in microcosms, simulated stream channels in a laboratory environment. They already obtained salmon for the microcosms from Downeast Salmon Federation's Peter Gray Hatchery, and collected trout from the state's Enfield Fish Hatchery. Now they just needed some bass.
Smallmouth bass are hard to catch. Electrofishing, a technique that briefly zaps the water with electricity, is a well-established and effective process. Most fish, temporarily stunned, go belly-up right away, and are easily scooped up with a net before they recover and swim away. But not bass. They are tough and evasive. After hatching in late April, very young bass (< 60 mm) seem to prefer shallow water, and overlap with young salmon. Larger juveniles hide in deep water, shady water, and begin to defend their selected territory. They like areas with structure and rocks, and move around a lot.
The team had already covered much of the Kenduskeag and collected some 80 fish, but they needed more. They targeted a section of the stream near its beginning at the outlet of Garland Pond. Undammed for the remainder of its length, the swift and rocky Kenduskeag offers ideal habitat for sea lamprey, Atlantic salmon, and brook trout.
The season was almost at its midpoint; cardinal flower bloomed on weedy islands in the stream. Emerald damselflies scripted the air. The name Kenduskeag comes from the Maliseet word for "eel-weir place," in reference to the Wabanaki fishing structures that trapped eels in what is now downtown Bangor. But near the headwaters, the banks were lush with chest-high ferns, grasses, stinging nettle, alder, and ash. The plants provided a from the surrounding agricultural land, and kept the stream cool enough for trout and salmon.
The team spread out across the channel, sweeping charged wands through the water as Nicole followed closely with a net. Trout, minnows, and eels drifted by. Once again, the bass were elusive. They targeted deep pools below riffles, shady overhangs, rock shadows. No bass. They tried a second location, off Route 43, and caught a few bass.
By noon, the air temperature was close to ninety degrees and Steve called it a day. They took their three young bass, about five inches in length, back to campus.