Can lobster larvae survive future ocean conditions?
by Aliya Uteuova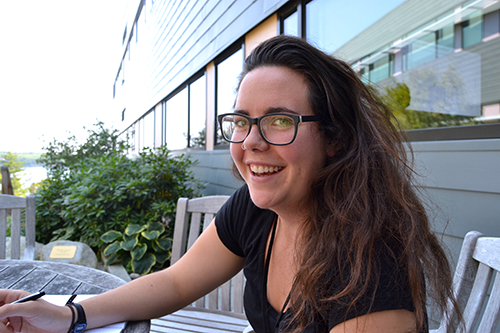 Maura Niemisto is a master's student in marine biology at the University of Maine's School of Marine Sciences, studying the effects of temperature and ocean acidification on larval lobsters in the laboratory of Richard Wahle at the Darling Marine Center.
With her interest in conservation and previous work with crayfish, Niemisto was a good candidate to work on the project, funded by the Northeast Sea Grant Consortium and NOAA's Ocean Acidification Program.
"When I came up to Bigelow for an interview and visited the Darling Marine Center, I was impressed by the scale of the project," she said. "I knew I was going to be learning so many different methods and crossing over different fields of marine science."
By studying different populations along New England's coastline (from warmer to colder waters) Niemisto aims to learn if lobster larvae exhibit evidence of local adaptation to elevated temperatures and acidification projected for the end of the century in the Gulf of Maine.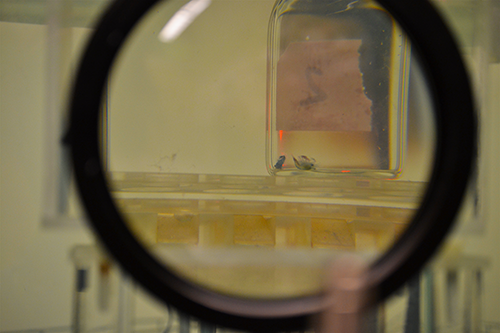 Scientists, fishermen, and state officials are concerned about lobster in particular because the species is so economically and culturally important. In recent years, there has been an overall upward trend of lobster landings in the northern part of the lobsters' range, while in the southern part of the range, landings have trended downward. Scientists and fishermen are seeing outbreaks of shell disease and a decrease in lobster numbers at their sensitive, late-larval stages.
If the Gulf of Maine continues to warm, will the larvae be able to keep up? And what does that mean for the fisheries down the line, when the larvae reach harvestable size? Will they reach the harvestable size?
Over the summer, Niemisto carried out several experiments with co-investigator David Fields of Bigelow Laboratory for Ocean Sciences. She exposed lobster larvae to filtered seawater with different conditions. Larvae were hatched at the Darling Marine Center from egg-bearing females from the different locations. Newly hatched larvae from Rhode Island and Downeast Maine were put in ambient water (16C) as well as water heated to 19C, the temperature that represents the predicted average Gulf of Maine temperature in the year 2100. The water was also acidified to see the response of larvae to the predicted levels of ocean acidification.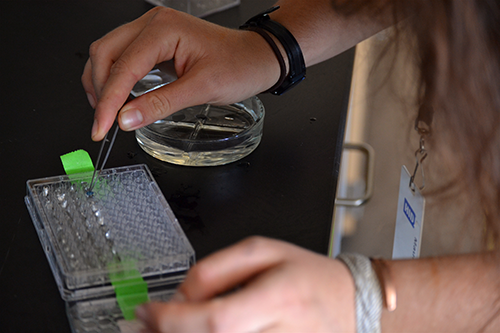 "Under these different scenarios of temperature and acidity, I am looking at how fast larvae develop into their post-larval stage, how much do they grow, and how much do they eat to cope with all these stressors," Niemisto said. "These tiny little larvae are going to be facing a whole host of environmental changes in the changing ocean. These factors will help us predict how these really important species may keep up."
The next step for Niemisto is to look at the genetics component of her research with collaborator Spencer Greenwood at the University of Prince Edward Island, Canada. She will see if larvae up- or down-regulate certain genes in response to higher temperatures and acidic conditions.

This research expands on previous work by recent UMaine graduate Jesica Waller, who completed her Masters in Marine Biology in 2016.