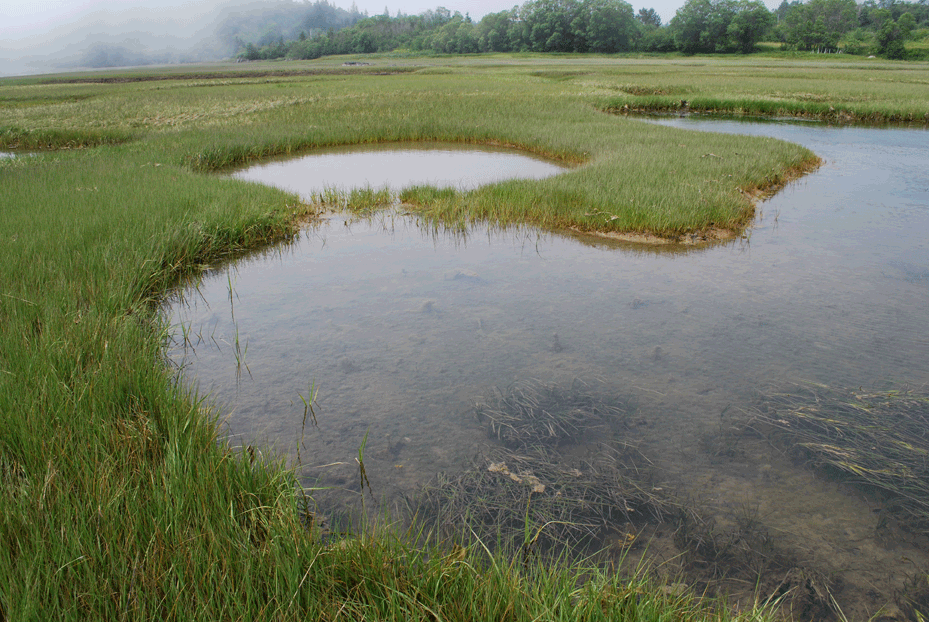 Salt marshes, freshwater tidal marshes, tidal flats, inlets, and coastal streams, rivers, and ponds are vulnerable to flooding and erosion. Just like on the open coast, the boundary between coastal wetlands and adjacent uplands is not static, and changes in response to daily and annual high tides, storm events, and sea-level rise. Wetlands and river banks buffer upland environments from storm damage and flooding. Wetlands protect water supplies and provide habitat for fish and wildlife, including commercially important fish species. Learn more about Maine's coastal wetlands or find out if your property contains or is near wetlands.
NOTE: Maine classifies all areas below the highest annual tide elevation, including rocky shores, sand beaches, mud flats, and salt marshes, as "Coastal Wetlands." In order to facilitate problem solving on this website, Coastal Wetland types have been grouped into three categories: Beaches & Dunes; Bluffs & Rocky Shores; and Coastal Wetlands.
Checklist to ID coastal hazards on your property A checklist has been developed to help you identify and rank beach and dune hazards, using the maps and other resources in this guide and by conducting a field inventory of your property.
Download the Coastal Wetlands Checklist - 131KB

My property floods often and the wetland boundaries are changing. What can I do?
Speak early and often to town officials and state agency staff.
Weigh the risks, with help from a certified geologist, licensed engineer, or other professional.
Finally, consider your options for taking action: