Maine Property Owner's Guide to Managing Erosion, Flooding & Other Coastal Hazards
The maps and other data resources described here link to various agencies and organizations. In some cases, maps are not readily available online and may need to be viewed in your town office or with expert assistance.
Coastal Sand Dune Geology Maps
Coastal Barrier Resources Systems
Coastal Marine Geologic Environments Map
Coastal Bluff and Landslide Hazard Maps
National Wetland Inventory Maps
Shoreland Zoning Maps
FEMA Flood Insurance Maps
Highest Annual Tide Table
Coastal Flooding and Erosion Forecast (GoMOOS)
Coastal Elevation Data (LIDAR)
Hurricane Surge Maps (SLOSH)
---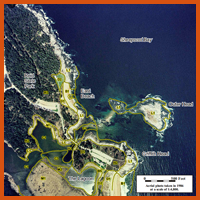 Coastal Sand Dune Geology Maps Maine Geological Survey
These color maps provide detailed information about Maine's largest beaches and dune systems. The maps show frontal dunes, back dunes, and other geologic environments conforming to the Department of Environmental Protection's 2006 Coastal Sand Dune Rules for the following towns: Biddeford, Bristol, Cape Elizabeth, Georgetown, Kennebunk, Kennebunkport, Kittery, Ogunquit, Old Orchard Beach, Phippsburg, Saco, Scarborough, South Portland, Wells, and York.
These maps can be viewed online at the Maine Geological Survey website
and are also available through the local Maine DEP office
, and may also be available at your city or town office. Additional dune and beach environments are shown on the Coastal Marine Geologic Environments map.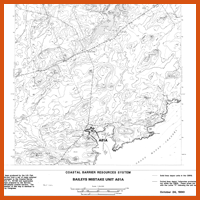 Coastal Barrier Resources Systems, US Fish and Wildlife Service
The Coastal Barrier Resources Act of 1982 and its later amendments designated the following undeveloped coastal barrier beaches, sand bars, and islands--a total of 6,781 acres and 38 shoreline miles in Maine--for inclusion in the John H. Chafee Coastal Barrier Resources System. Infrastructure and erosion protection activites in these locations cannot use public funding, and flood insurance is not available through FEMA.
Cape Elizabeth, Crescent Beach (ME-19, ME-19P, A06)
Cranberry Isles, Thrumcap (ME-12)
Cumberland, Great Chebeague Island (A05C)
Cutler, Cross Island, Grassy Point and Seal Cove (ME-03P, ME-04)
Deer Isle, Pond Island (ME-11)
Georgetown, Little River (Reid State Park) (ME-15P)
Harpswell, Stover Point (ME-18)
Harrington, Carrying Place Cove (ME-01)
Islesboro, Seven Hundred Acre Island (A05A)
Jonesport, Popplestone Beach and Roque Island (A03C)
Jonesport, Flake Point Bar (ME-08)
Kennebunk, Crescent Surf Beach, Parsons Beach (A08)
Kittery, Seapoint (A09)
Lubec, Sand Bar (A01)
Lubec, Bailey's Mistake (A01A)
Machiasport, Howard Cove (A03)
Machiasport, Starboard Cove (A03B)
Milbridge, Bois Bubert and Petit Manan Island (ME-09P)
Mussel Ridge Islands, Andrews Island, Nash Point (ME-14)
Ogunquit, Ogunquit Beach (ME-20P)
Perry, Birch Point (ME-02)
Phippsburg, Head Beach, Hunnewell Beach, Small Point Beach (A05B, ME-16, ME-16P, ME-17)
Portland, Cliff Island (A05C)
Roque Bluffs, Bare Cove (ME-06)
Roque Bluffs, Schoppee Point (Roque Bluffs State Park) (ME-07P)
Scarborough, Scarborough Beach (A07)
Steuben, Over Cove, Chair Pond, and Wood Pond Point (Petit Manan Point) (ME-10, ME-10P)
Wells, Laudholm Beach, Moody (A08, ME-20P)
York, Phillips Cove (ME-23)
For more information on the Coastal Barrier Resources System and associated Maine units, visit the Maine Geological Survey
and the US Fish and Wildlife Service
.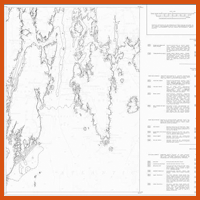 Coastal Marine Geologic Environment (CMGE) Maps, Maine Geological Survey

These black-and-white paper maps illustrate the size and location of marine geologic environments for the entire Maine coast, including areas not described in the Coastal Sand Dune Geology Maps. The maps illustrate which areas are rocky, muddy, sandy, etc. along the shoreline between the high- and low-tide lines, as well as the location of salt marshes and other tidal wetlands. The maps are available in paper version from the Maine Geological Survey
.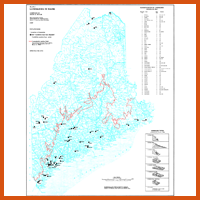 Coastal Bluff Maps and Coastal Landslide Hazard Maps, Maine Geological Survey

The Bluff Maps show the shoreline type and relative stability of bluffs along the Maine coast; the Landslide Maps show locations of known landslides and areas of potential landslide hazard on bluffs along the Maine coast. Landslides can occur in high coastal bluffs composed of muddy sediment. The maps can be purchased from the Maine Geological Survey or viewed online.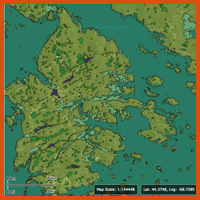 National Wetlands Inventory, US Fish and Wildlife Service

These maps identify and classify large wetlands, including tidal wetlands and salt marshes. The US Fish and Wildlife Service created the National Wetlands Inventory maps using 1980s aerial photographs, so existing marsh conditions may be different than those mapped and small wetland areas may not appear. Paper NWI maps should be available at your town office, can be purchased from the Maine Geological Survey
or viewed online via the Wetlands Mapper or Google Earth.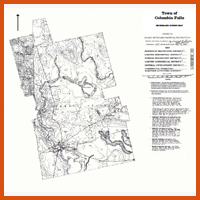 Shoreland Zoning Maps, Maine Municipalities

Maine communities adjacent to the ocean, lakes, rivers, and some wetlands are subject to regulation under the Mandatory Shoreland Zoning Act,
as interpreted by individual municipal ordinances. Before beginning any project, contact your city or town office to find out if your property is located within the shoreland zone, and if so, what is the "district designation." Local Shoreland Zoning maps may be based on National Wetland Inventory maps, or could include more updated information.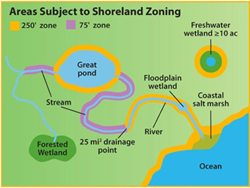 The shoreland zone is all land areas within 250 horizontal feet of the
normal high-water line of any great pond or river;
upland edge of a coastal wetland, including all areas affected by tidal action;
upland edge of a freshwater wetland, as defined in ordinance; and
all land areas within 75 horizontal feet of the normal high-water line of a stream (as defined in ordinance).
The shoreland zone does not represent the setback for structures. Setbacks are based on district designations and adjacent resources. Also note that vegetation removal within the Shoreland Zone
is limited and may require a permit. View the Citizen's Guide to Shoreland Zoning for more information on zoning districts and regulations.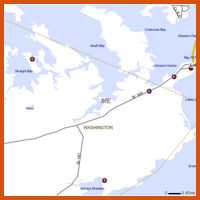 Flood Insurance Maps Federal Emergency Management Agency (FEMA)

Flood risk changes over time, and as a result the Federal Emergency Management Agency (FEMA) is currently in the process of conducting new coastal studies and updating flood insurance maps (view the update schedule). If you are unable to get a map from your local municipality, access your community FIRM via FEMA's map service center
(if using the 'search by street address' option, use a major road, for example Atlantic Avenue for Old Orchard Beach).
Flood Insurance Rate Maps are used to identify flood insurance premiums in areas associated with different flooding events. These events include the 100-year flood elevation (1% chance of being equaled or exceed each year) and 500-year flood elevation (0.2% chance of being equaled or exceeded each year). The maps also can be viewed in paper form at your town office, or by request from the Maine State Planning Office. FLOOD MAPS ARE PERIODICALLY REVISED, so check with your town office or Maine State Planning Office of Floodplain Management
for the latest information on local flood zone mapping. In addition, Maine Geological Survey conducted a Coastal Erosion Assessment for Maine FIRMs and Map Modernization Program
report which outlined shoreline erosion impacts for the majority of southern Maine. The assessment includes some detailed information on different coastal communities regarding general erosion rates and trends. This information will be used to help the State of Maine prioritize areas for revised mapping.

FEMA has developed information
on each specific flood zone and how to read the maps
.
The Office of Floodplain Management has also released a Maine Floodplain Management Handbook
which can be a great resource to property owners.
For Property Owners and Communities:
Flood Map Update Schedule Tool
FEMA Letters: Flood Risk and Policy Options provides important information to help National Flood Insurance Program (NFIP) policyholders, insurance agents and others understand letters all NFIP policyholders will be receiving each year, starting in January 2017.
FEMA commissioned the Flood Economics website to make an economic argument for flood mitigation through case studies as well as broad nationwide data analysis. A recent message from the creators of the website offered the following: "The highlight of Flood Economics is the 11 community case studies, which feature interviews with community leaders that tell the story of how mitigation action ultimately saved money and benefited each community in a unique way. Other areas of Flood Economics include insights derived from a state-level analysis of projects and benefits data for each state and information on how users can take steps toward action. There are options on certain portions of the website to filter information and search by location and population in order to find the most relevant information."


Highest Annual Tide Table, Maine Department of Environmental Protection

The highest annual tide line is the jurisdictional limit for all coastal wetlands and is used by local, state, and federal authorities in determining setbacks or impact to the natural resource. The highest annual tide typically occurs several times a year and corresponds to the full moon. Highest annual tide is not the average high tide that occurs twice each day. Each year, Maine Geological Survey provides the Department of Environmental Protection with a list of the highest annual tides for many communities along the Maine coastline, based on tide information from the NOAA National Ocean Service.
Maine DEP staff use the data to establish the upper limits of the coastal wetland, based on the regulatory definition, using tidal elevations.
View 2012 Highest Annual Tide Table (PDF) or learn how to calculate Highest Annual Tide.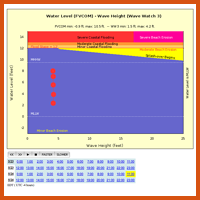 Coastal Flooding and Erosion Forecast, Gulf of Maine Ocean Observing System

The National Weather Service, in conjunction with the Gulf of Maine Ocean Observing System (GoMOOS), developed this tool that predicts coastal flooding and beach erosion in real time based on water levels, tides, and wave heights in the Portland area. If a large storm is approaching, property owners and municipal officials can consult the model for anticipated flood levels and timing.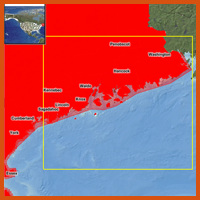 Coastal Elevation Data (LIDAR), NOAA

Elevation and topographic data, including that collected recently using Light Detection and Ranging (LIDAR), is available from the NOAA Coastal Services Center and can be searched using the Digital Coast Viewer
. If you have GIS capabilities, you can view LIDAR data collected along the Maine coastline and get a sense of coastal elevations on or adjacent to your property.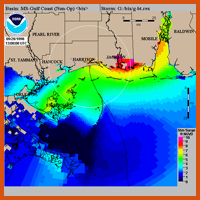 Hurricane Surge Maps (SLOSH), National Hurricane Center

Storm surge heights and winds associated with hurricanes are estimated with a computer model (called SLOSH) and mapped by the US Army Corps of Engineers. Hurricane Surge Maps for the Maine coastline show surge elevations and their inland graphical extent and represent the potential maximum surge for a given location. The maps can be used for preliminary planning purposes to help identify areas that may potentially be inundated during a tropical storm event. GIS data layers are available for download through the Maine Office of GIS
.