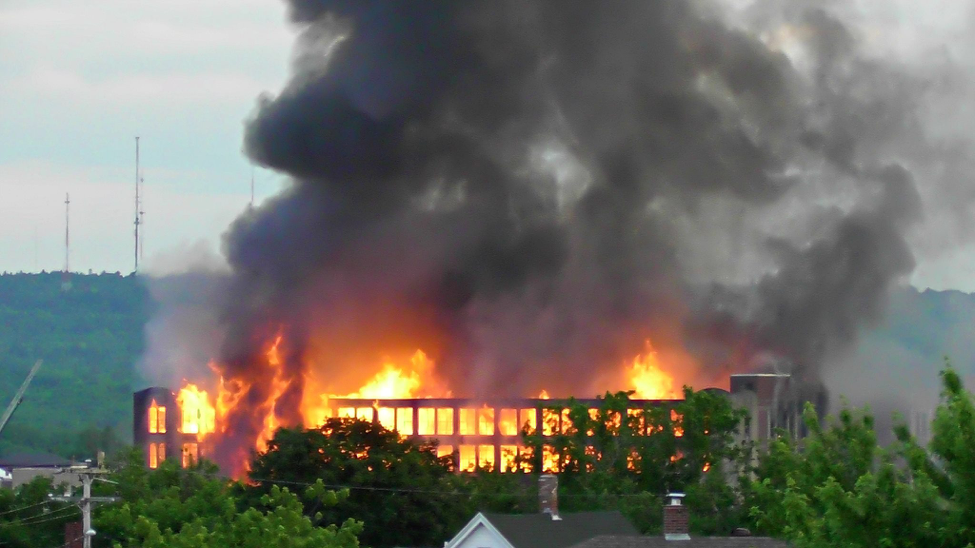 When a massive fire broke out at the Stenton Trust Mill in Sanford on Friday night, June 23, the shocked community poured into the streets to support each other. Since the 1990's there had been little to no activity at the mill, a scenario which is familiar to many Maine towns with a proud history of mill work. But even while it sat in disrepair, the mill had been a centerpiece of Sanford's history.
The Stenton Mill area had been identified two months earlier as the focus area for a community revitalization workshop that would consider what the future might hold for the mill, including housing options affordable to a range of income levels. The Workforce Housing Coalition of the Greater Seacoast and Maine Sea Grant had partnered with the City of Sanford to develop the workshop under the guidance of a local Advisory Committee.
The Advisory Committee – a group of 15 representing area residents, businesses, social service organizations, and municipal officials – met soon after the fire to consider next steps. The members shared their own personal responses to the fire, as well as those of their neighbors. "Five generations of my family worked there." But simultaneous with a profound sadness at this multigenerational loss, was a shared sense of optimism for a new beginning, and an opportunity before the community.
So with a sense of "joy and sadness at the same time" the Advisory Committee re-committed to its plan to focus the revitalization workshop on the mill area. The aftermath of the blaze actually served to spark conversations and engage community members in revitalization workshop activities such as an August walking tour of the mill area, and Community Listening Session in September.
from the wider community reflected these same themes of joy and sadness, and preserving the past and looking to the future. Community opinion was split on the idea of demolishing all the Stenton Mill buildings, or trying to restore whatever structures might still be saved. To help visualize these options and give the community more information to guide their decision making, a volunteer design team of architects, engineers, planners, real estate agents, bankers and developers sketched design concepts and made financial and policy recommendations to address both the demolish and the restore scenarios.
Because the conversation about the future of the Stenton Mill area has really just begun, the Advisory Committee has decided to continue its work and the members have become the local champions for progress at the mill – as only they can be.
| | |
| --- | --- |
| Community members watch in shock as the mill burns. | Sanford community members join a walking tour of the Stenson Mill area on 8 August 2017. |
| Participants at the September 26 Community Listening Session discuss a range of ideas for the future of the mill. | Ideas contributed by Sanford community members for what they'd like to see for Stenson Mill area redevelopment. |