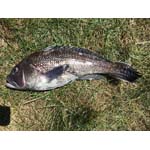 Black Sea Bass
species description | season | status | regulatory authority |
harvest method | recreational harvest | health benefits & risks |
buying & preparing | brands | certifications | links
---

►Species Description
Black sea bass Centropristis striata
Wild.
Some small aquaculture production of black sea bass occurs in other states. Black sea bass is a perch-like fish that lives from the Gulf of Maine to Florida. Mottled smoky gray to dusky brown or blue-black in color, with one long continuous dorsal fin. They live on the bottom, on offshore ledges and banks.
---

►Season
Black sea bass occasionally stray into the Gulf of Maine in summer.
>back to top
---

►Status (see the About page for definitions)
According to the most recent assessment, the black sea bass population in the Mid-Atlantic is considered rebuilt and overfishing is not occurring. See Fishwatch.gov for more information.
>back to top
---

►Regulatory Authority
Managed cooperatively by the Mid-Atlantic Fishery Management Council and the Atlantic States Marine Fisheries Commission (under the Summer Flounder, Scup, and Black Sea Bass Fishery Management Plan).
>back to top
---

►Harvest Method
Otter trawls and fish pots, also hand lines and lobster pots. Hook and line only in State waters.
>back to top
---

►Recreational Harvest
Harvest permitted between May 19 and September 21; minimum size of 13 inches, limit 10 fish per angler per day. Fish for black sea bass in summer around jetties, wharf pilings, and wrecks.
>back to top
---

►Health Benefits & Risks
Black sea bass is low in calories and fat, is a good source of selenium, and contains omega-3 fatty acids.
Black sea bass has low to moderate levels of mercury.
>back to top
---

►Buying & Preparing
Black sea bass is a versatile and popular seafood, sold whole and as steaks or fillets. Treat similarly to striped bass or any firm, meaty, white-fleshed fish.
>back to top
---

►Companies, Brands, and Labels
None.
>back to top
---

►Certifications & Verifications
None.
>back to top
---

►Links
Northeast Fisheries Science Center Black Sea Bass Information
Black Sea Bass Description from Wild Rhody Seafood (RI)
>back to top
---
species description | season | status | harvest method | recreational harvest
health benefits & risks | buying & preparing | brands | certifications | links | featured harvester