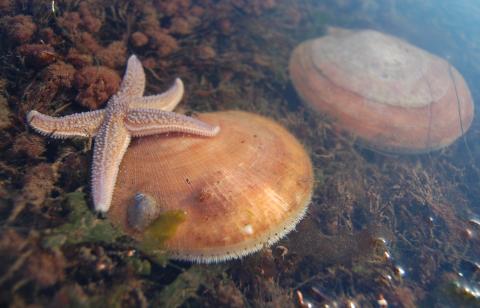 Scallops are one of the most profitable fisheries in Maine, with a statewide value of nearly $7 million in 2016. The scallop fishery is also one of the most local, with small "day boats" staying close to shore.
Landings (and populations) have fluctuated over the years, with the latest peaks in the mid-1980s and 1990s. After severe declines in the early 2000s, the state instituted adaptive management, closing some areas and closely monitoring others. The approach seems to be successful, as landings have increased significantly, although the exact reasons are unclear and there are many questions left unanswered. Does closing a scallop bed protect spawning? How long does population recovery take? If a scallop bed is large, does that mean it's healthy? Are all scallop beds equally productive?
Skylar Bayer, who graduated this spring from the University of Maine with a Ph.D. in marine biology, has been studying scallops for six years in Richard Wahle's lab at the Darling Marine Center. Her research addresses questions about scallop reproduction. Scallops are broadcast spawners, releasing their eggs and sperm separately into the water. Fertilization happens by random encounters. With a recent funding award from Maine Sea Grant, she is testing "e-DNA" techniques to indirectly detect scallop spawning in the field.
Read the full story via the University of Maine.