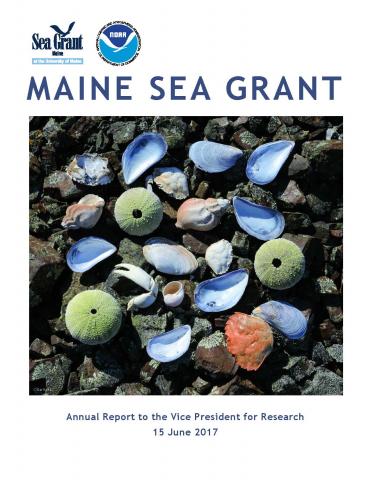 The annual report, featuring impacts, accomplishments, and summary data for the period from 1 February 2016 through January 2017 is now available. Highlights include
More than 60 fishermen from communities across the coast have participated in the Aquaculture in Shared Waters program. To date, 13 have secured leases and a total of 30 are now involved in aquaculture to some degree.
Sea Grant-led planning efforts helped the town of Berwick secure a $600,000 EPA Brownfields grant.

More than 40 constituents, including Maine DEP and municipalities, used data from the Healthy Beaches Program to manage beaches, prioritize upgrades to sewer and stormwater infrastructure, establish setback requirements, procure grant and bond funding, and launch public education campaigns. Pollution source identification, analysis, and remediation activities resulted in documented water quality improvements in Camden, Old Orchard Beach, York, and Kittery.
Sea Grant facilitated the formation of the Alliance for Maine's Marine Economy, a multi-institutional public-private partnership that is overseeing the expenditure of $18M in infrastructure investment in the seafood industry.

UMaine researcher Yong Chen and postdoctoral research associate Jie Cao developed a new model to better capture shrimp's complex life history, the seasonal nature of fishing, and environmental conditions. The model was tested in 2016 and is set to be adopted by the Atlantic States Marine Fisheries Commission in 2017.

Two program development grants to American Unagi LLC have helped business owner Sara Rademaker advance U.S. based culture of adult American eels and earn additional grants and awards.
In 2016, Maine Sea Grant staff and researchers created
16 peer-reviewed publications, 1 journal special issue, and 1 book chapter
1 book
15 technical reports/proceedings
58 print and digital outreach publications, including fact sheets, websites, interpretive panels, radio programs/podcasts, videos, and articles
169 presentations to professional and public audiences, attended by approximately 20,000 people
207 Sea-Grant sponsored or organized workshops, meetings, and conferences attended by approximately 200,000 people.

Learn more about our recent work by reading the full report.